Scout® SKX
Designed for education applications, the OHAUS Scout with large backlit LCD backed by education software is the ideal balance for your classroom. It is built to endure demanding classroom applications with superior overload protection. Features including, faster stabilization time, increased capacity, multiple connectivity options and stackable design make Scout the best weighing experience for the next generation classroom.
Applications
Weighing, Density Determination, Mole Weighing
Display
Liquid crystal display (LCD) with backlight
Operation
AC Adapter (Included) or 4 AA Batteries (Not included)
Communication
RS232, USB Host, USB Device, Ethernet or Bluetooth® (available as an accessory)
Construction
ABS housing, stainless steel pan, ABS draftshield (1mg model only), weigh below hook, transportation lock, manual calibration lock switch, security slot
Design Features
Stability indicator, stackable design with included storage cover (excluding 1mg model), mechanical and software overload/underload protection, low battery indicator, auto shut-off, auto tare, span calibration mass included on models up to 620g capacity
Integrated superior overload protection system rated at 10x capacity protects the balance in demanding classroom environments. Space-saving design allows for stackable storage (excluding 1mg model).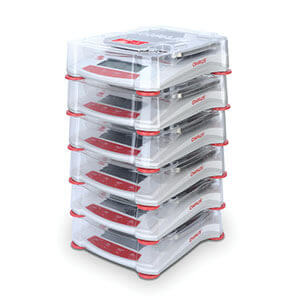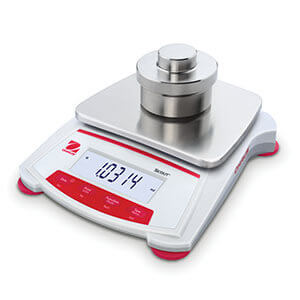 Combined with a simplified 4 button operation, the Scout's large backlit display increases readability in dim lighting conditions, and makes it easier to view results from across a desk or lab bench.
With expanded connectivity options including RS232, USB Host, USB Device, Ethernet and Bluetooth®, the Scout provides added versatility to your data collection and transfer needs.