MB25
The MB25 provides precise moisture content determination at an unbeatable value. With a large backlit LCD display, standard RS232 port, 110g capacity with a readability of 0.005g/0.05% and halogen heating, the MB25 offers moisture analysis for any budget.
Applications
Percent Moisture Determination, Percent Solid Determination, Weighing
Display
Backlit liquid crystal display (LCD)
Operation
Power cord (included)
Communication
RS232 (included)
Construction
Halogen heat source, ABS housing, metal pan support, metal pan handler, in-use cover
Design Features
3 shut off criteria (manual, timed or auto), 1 standard heating profile, 50° to 160° C heating range (5° C increments)
MB25's halogen heating element quickly dries samples, and saves the operator ample time in comparison to moisture analysis procedures using a traditional oven.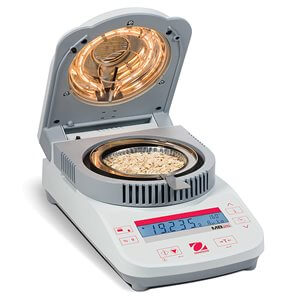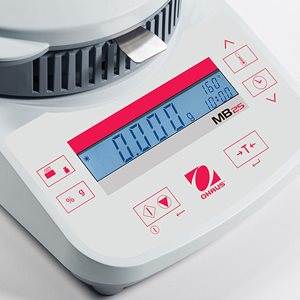 With a bright backlit LCD and easy one-button setup and menu navigation, MB25 is extremely user-friendly.
MB25 is very easy-to-clean to ensure the integrity of your samples and its compact design allows it to fit seamlessly into most workspaces.