Ranger® 2000 Count
OVERVIEW
The Ranger Count 2000 has all of the capabilities to produce precise results rapidly for a variety of applications. With weighing, parts counting, check counting, and accumulation functions, Ranger Count 2000 is the ideal scale to meet many industrial counting needs. Portable and equipped with a rechargeable battery, this scale is beneficial in every corner of the factory and is equipped with functions and features that elevate the Ranger Count 2000 to a class of its own.
Applications
Weighing, Parts Counting with Auto Optimization, Checkweighing, Accumulation
Display
3 window backlit liquid crystal display (LCD), 3 color checkweighing LEDs
Operation
AC power (included) or rechargeable battery (included)
Communication
Easy Access RS232 communication port (included)
Construction
ABS Housing, ABS platform with stainless steel inset, transportation handle, numeric keypad, menu lock switch, up front level indicator
Design Features
30 item library, 210 hours of battery life, 3 LED checkweighing lights with selectable operation and audible signal settings, auto tare, selectable environmental and auto-print settings, auto shut-off, auto tare.
Accurate weighing and counting performance is assured through Ranger Count 2000's high resolution, 10 item library function and auto-optimization software that reduces errors.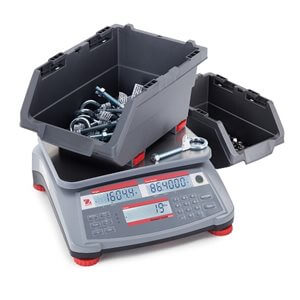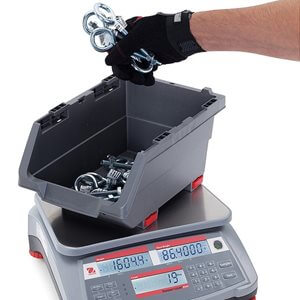 The 3 backlit LCD displays, including a centrally located count display, along with an easy-to-navigate menu, make Ranger Count 2000 easy to use in multi-step counting operations.
Ranger Count 2000 produces accurate results within one second and virtually eliminates your wait time and allows you to move at a pace determined by you, not your weighing equipment.