Defender® 2000 - D24P
OVERVIEW
The OHAUS Defender 2000 Series of bench scales offers OHAUS' signature accuracy for commercial and industrial weighing applications at an unbeatable price. Depend on the OHAUS Defender 2000 Series when you need accuracy you can count on while maximizing your budget.
Applications
Weighing, Parts Counting, Accumulation
Display
Light-emitting diode display (LED)
Operation
AC Adapter (Included) or Rechargeable Battery (Included)
Communication
RS232 (Available as an Accessory)
Construction
ABS indicator, 430 grade stainless steel platform with painted steel tubular frame, IP65 aluminum load cell
Design Features
Indicator with ABS plastic housing, red LED display, tactile mechanical keys, optional RS232C with manual/continuous/interval printing, hardware configuration lockout switch, internal lead-acid rechargeable battery and AC adapter. Software included for parts counting mode with selectable sample sizes and weighing totalization (Accumulation) functions. Selectable span calibration points, averaging level, auto-zero tracking and battery saving auto-off. Stainless steel pan with painted carbon steel tubular frame, non-slip rubber leveling feet with locking nuts, externally visible level bubble, aluminum alloy IP65 load cell, down-stops for overload protection.
The polished 430 stainless steel platform with painted carbon steel frame and aluminum alloy IP65 load cell provide strength and durability.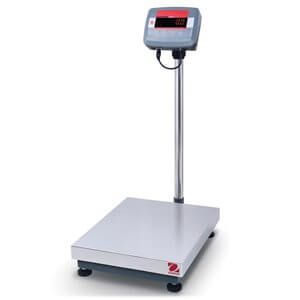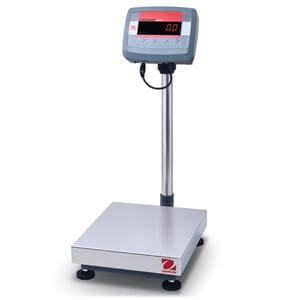 Defender 2000's red LED indicator clearly displays results that can be seen in locations with less than optimal lighting.
An AC adapter and internal rechargeable lead acid battery provide options for powering your Defender 2000.